Gallery: Design & Organizing
A Living Room: Staged to Sell
Before: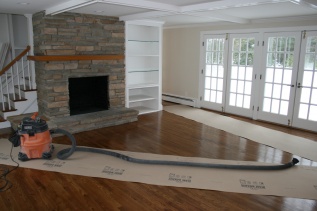 After:
---
A Master Bedroom: Transformed
Before:
After purchasing a new home my clients wanted to make it their own. We started with the master bedroom. The goal was to create a warm inviting new look for their room using their existing bed, pictures and photos.
After:
In this transformation we replaced the carpeting with bamboo wood floors. One accent wall was painted a darker blue with a lighter shade of blue on the other walls. I incorporated new end tables of the client's choosing and selected new lamps for the room to fit the new look.
---
A Basement: Organized
Before:
My client wanted to develop a nice sitting and work space in her basement. She had just retired from teaching and had a lot of classroom accessories filling the space along with other accumulated storage items.
After:
We sorted everything into either: giveaway/charity, throw out, repurpose, and usable items. Then we cleared the clutter and found storage or display places for all her keepable items.
---
A Living Room: Transformed
Before:
My client wanted to harmoniously combine their existing furniture with some new pieces in the living room of their newly purchased home. When I started they had a number of nice pieces and a style they wanted to work toward.
After:
Using my client's existing items, including a recliner and personal artwork, I helped them select a new sofa, drape fabrics, and wall color. Then with the new furniture, wall color, and drapes in place we used their existing pictures and decorative pieces to complete the room.
---